Words by Tyler Wilkinson-Ray.
Photos by Colin Arisman and Tyler Wilkinson-Ray.
Aerials by Luke Kantola.
By the numbers:
• Distance traveled: 400km (Roughly 150km of bike packing, 250km or packrafting)
• Days in the Wilderness: 9
• Number of aggressive Grizzly Bear encounters: 1
• Bikes used: Ibis Tranny29 x 2
Look at a map of northwestern BC and it's both shocking and relieving to see the lack of roads. At the heart of this vast area is a place known as the Sacred Headwaters – one of the only pristine wildernesses of substantial size left in North America. It's serves as the headwaters of B.C.'s three great Salmon rivers and supports an ecosystem so rich in flora and fauna that it has been coined the Serengeti of the North. Part and parcel of the allure of the Sacred Headwaters is that it is nearly impossible to access without a bush plane. Nearly.
Fortunately, my adventure companion and fellow filmmaker Colin Arisman found the only route inside – a roughly 100 mile dirt road that was built in the 1970's as a railroad grade. The project was abandoned before completion and what remains is an unmaintained railroad grade,resulting in a perfect gravel grind that would take us directly to the heart of the Sacred Headwaters. It would serve as the first leg of our journey.
With our Tranny's packed and fully loaded with 9 days worth of food, packrafts, camping gear, and repair kits for all of the above, our last interaction with civilization was with the owner of a nearby lodge. His message to us was direct – he thought we were insane. It was big country up there and if even the smallest thing went awry, it would become a life-threatening emergency very quickly.
"It looks nice now, but things can change very quickly up there," he warned. We didn't need his warnings to know this, but it was a sobering note to leave on.
As it turns out, the abandoned railroad grade was in great shape and for the most of two days we had what felt like a gravel highway to ourselves. At the end of day two we turned off the smooth gravel and onto an old canoe portage. Despite the heavily loaded bikes, it yielded several fun single-track descents. And, a few muddy bogs to remind us where we were.
By evening we had reached the banks of the Spatsizi River, where our journey would turn north and start it's second phase – a six-day packraft covering almost 150 miles of river wilderness. We broke down the Tranny's – front and rear triangle separated, both wheels off, mindful that we would be needing them in working order again before the trip was over – and strapped them to the newly inflated rafts.
Floating was a markedly different pace than biking as we watched the landscape drift by from our boats. At the entrance of any large tributary we stopped to fish and to little surprise found that the trout had not seen many flies pass overhead.
During our first three days, the Spatsizi had grown from a small brook that was barely passable to a large, rumbling river, and soon it converged with the mighty Stikine, one the B.C.'s largest rivers. From the Stikine confluence we turned West, and for first the first time on the trip we were headed back towards a road and not away from one. Fast moving and large, this new water brought new challenges. Class 3 was the largest water we encountered, but it was plenty frightening, as flipping meant raking the carbon bikes strapped to the hood of the raft across every rock it crossed, not to mention exposing yourself to injury that would require a helicopter airlift.
Along the way we crossed paths with over twenty black bears, floated by a very curious moose and her calf, and had one very harrowing encounter with a grizzly bear that decided we looked like a good option for dinner and charged us from the opposite back. Fortunately, we we able to get in the fast moving water first, but there was a moment when we were not sure who was faster in the water— as Grizzly or a packraft. Had we been on land, it would have been no contest.
After 6 days on the river we hit an old railroad trestle—a lower section of the same railroad grade we began on on – where we rebuilt the bikes for the last 35 miles of gravel. After 6 days of paddling, we felt weightless to be back on the bikes.
We awoke the next day to rumble of tractor trailers – a stark contrast to the scenery of our past nine days. The trucks were heading to Red Chris mine, only a few miles from where our journey had begun and concluded. It was a completely unplanned, but the irony was not lost on us. If the Sacred Headwaters are for known for one thing in addition to its wilderness, it's the resources that sit underneath it. Rich in natural gas, coal, and numerous precious metals the area has been subject to intense conflict over whether mining should take place. It is home to one of the few successful campaigns by First Nations' communities to block a mining project in their sacred land – a Shell Oil hydrofracting project. Yet, despite similar blockades and protests, the Red Chris mine won approval. So on our last day in the north country, we chartered a sea plane to see this controversial site for ourselves, which despite using state-of-the-art techniques, has already begun to leak arsenic into a nearby lake after only two years in operation.
We left the Sacred Headwaters with mixed emotions. Having seen and traversed wilderness completely untouched my humankind only to realize that it's status as such might be shortly lived.
A short film on the adventure will be out next fall.
We are pleased to announce our winner of this year's #5BucksAFoot fundraiser is Sarah Maguire of Switzerland! Sarah, along with 2,530 others who donated, helped us raise a record $71,685! That's 14,337 feet of sweet Lakes Basin trail - simply incredible and beyond our wildest expectations. Sarah exclaimed, "You have just made my YEAR!!! Happy to be supporting trail groups like yours. We have a trail advocacy mob here as well (in Kanton Zürich, Switzerland), and I'm a member there too. Now I have to think about what Ibis bike I want!" SBTS thanks Ibis Cycles for their tremendous support along with SRAM, Fox, Industry Nine and WTB for tricking Sarah's bike out with blingy Gold Country themed parts. Have fun Sarah and come visit us in the Lakes Basin on your new bike!
Once again, with the help of all of you, we raised $71,685!
Congratulations Sarah!
Finale Ligure, the most iconic venue on the Enduro World Series circuit once again hosted the finals of this year's series. The venue is always one of the rider's favorites, since everyone loves the Italian dolce vita lifestyle as much as the world-class MTB trails. For this year's race the local organizers surprised everyone with a variety of brand new and established trails.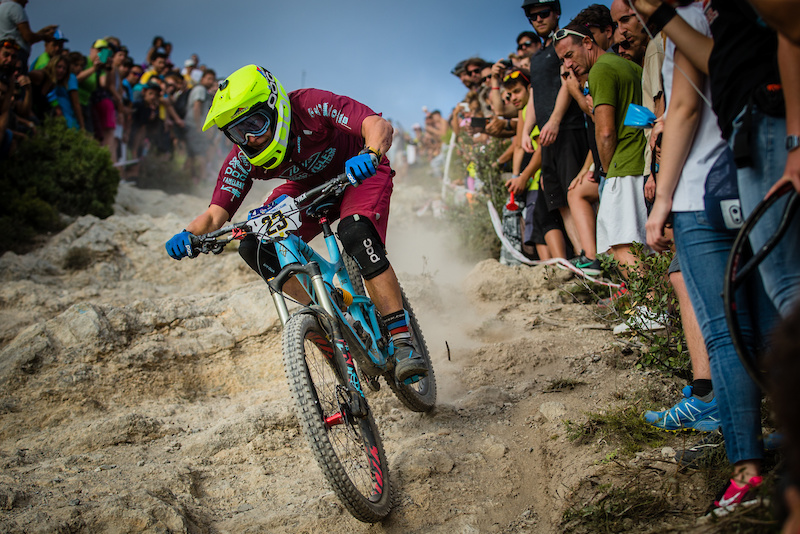 For day one of racing the riders had to face a 50km loop with over 1700 meters of climbing to access the three stages in the Calice area. Eventually when the riders reached the stages there was not much more to pedal. The first two stages were a true test of downhill skills with loose soil and gnarly rock sections, and then on the third stage the riders had to ride smart to maintain speed around the numerous flat corners and rocks.
Day two of racing was a true test of physical strength and technical abilities. It was a bit easier knowing that the long climb to Nato Base for the start of the 4th stage was the last long transfer of the season. Only the fittest riders would be able to keep pushing hard until the infamous last stage that was the rocky mess called 'Downhill Uomini[Men].'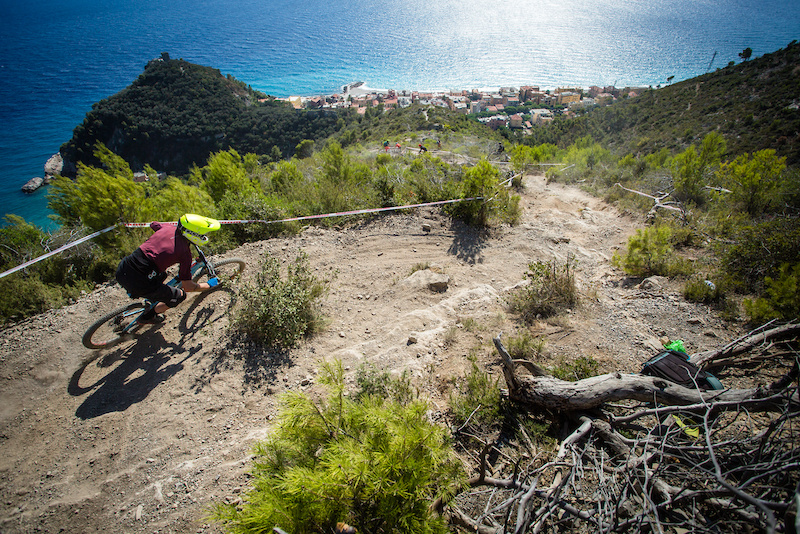 The Ibis Cycles Enduro racers chose to head straight to Finale Ligure after the penultimate round of EWS in Valberg to get a much-needed recovery week under the warm sun of the Mediterranean. Everyone was suffering a bit after the long season and the beach holiday seemed to do the trick to recharge batteries since everyone felt strong going into the first day of racing. Gary Forrest had a hard time this weekend with very bad cramps already on the long way up to the first stage due to a training incident prior to the race. Unfortunately, he had to retire his race after having raced the first stage with a lot of pain.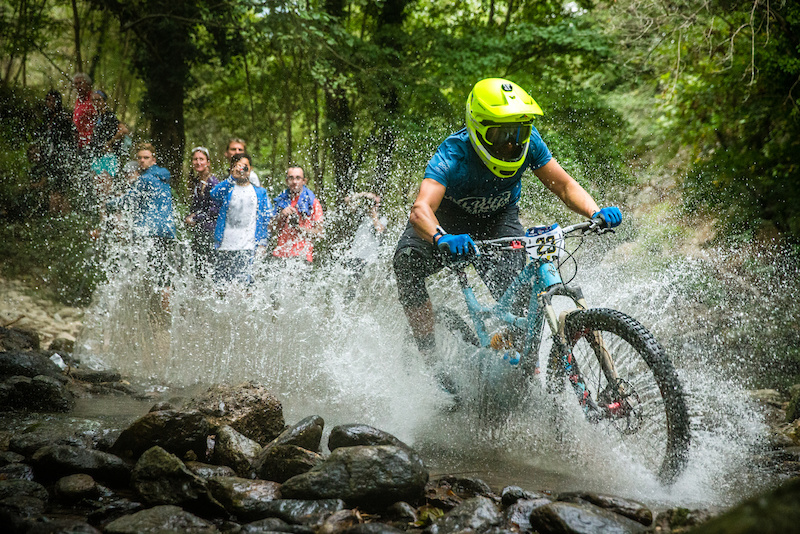 The flying Swede, Robin Wallner came into this race with high expectations. He badly wanted to score another top 10 result before the off-season. The luck wasn't going to be on his side this weekend and after a few hard crashes in practice and the race Robin was just happy to make it through the weekend and jump in the sea to wash off the disappointment. 24th was not quite the result he was hoping for. Nevertheless an amazing season for him that he finished on with a very good 14th overall ranking.
"I was really motivated to finish my season off strong here in Italy after recharging a bit in the week between the races but I ended up with a few mishaps and crashes both in practice and the race so at the end I was just happy to seal the deal and make it to the finish line on Sunday! However, I am more than happy with my season in general and that we got 2nd in the team overall so I can't wait to see what 2017 has in store!" – Robin Wallner
Gehrig twins at EWS Finale Ligure by NiklasWallnerphotography
The twins, Anita and Caro Gehrig, had a solid day of racing on Saturday but really showed off on Sunday where they absolutely killed it, leapfrogging through the field. Anita wrapped her season up with another podium placing, taking 3rd, with Caro followed her hot on the heels with a career-best 4th, only 15 seconds behind her sister. Those results were good enough for the twins to secure their overall series rankings as 3rd and 5th. Besides celebrating her 3rd overall podium, Anita was also among only 7 riders that participated at every single of the 30 rounds of the EWS since its beginning in 2013.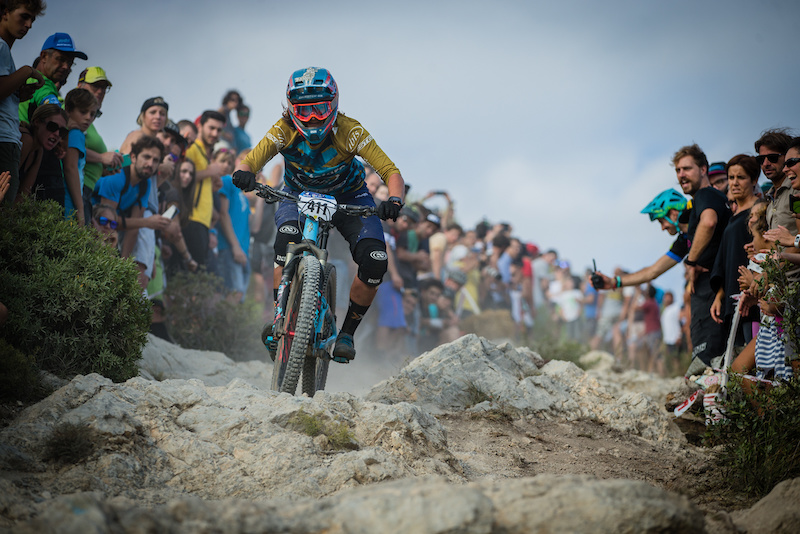 "The overall was pretty much a done deal for me since I had a pretty big lead for 5th place. I had nothing to lose and all to play for so I tried to attack really hard to look how much faster I would be able to go. I'm super stoked how it turned out, 4th place only 15 seconds back from podium is a huge motivation to train hard over winter to eventually make it on the box next season!" – Caro Gehrig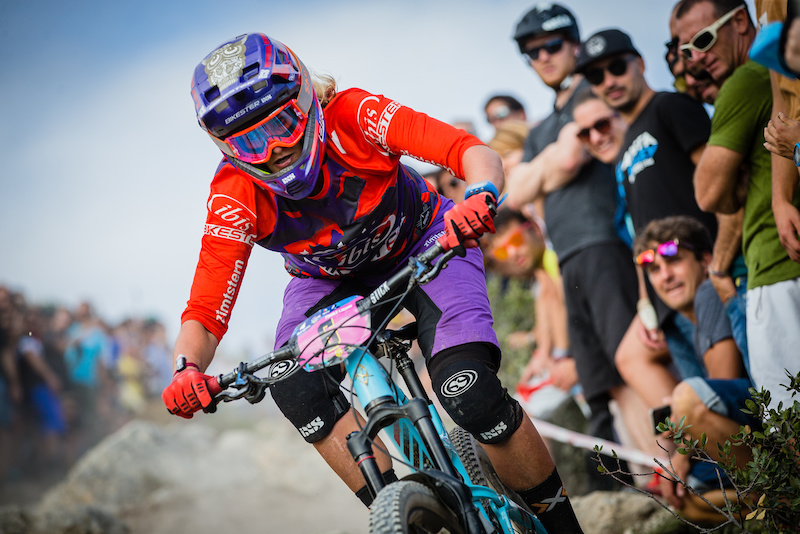 "Coming into the race week I knew I was capable of pulling a good result in Finale, I felt strong and ready to give it all one more time. Practice was going well and I was more than keen on holding on to the 3rd spot in the series overall. That everything has come together now is an unreal feeling, I put a lot of work in this year and it all has paid off now!" – Anita Gehrig
Our Chilean junior, Pedro Burns, seemed to love the loose terrain that reminded him of the riding at home and he showed a strong performance especially on the first day of racing with top three stage results. Pedro finished his season with a 9th place in Finale and a fabulous 3rd place in the overall.
"When I travelled to France for the last two rounds of the EWS I was in 5th place overall, and my goal was to improve this to a 3rd place. I knew this wasn't going to be an easy mission. Luckily my team and family supported me really well to achieve my goal and it's truly a dream come true to finish this season on the podium of the U21 category. I want to thank my sponsors and team, I'm super proud we ended the season as second fastest team! I'm in love with my bike..." - Pedro Burns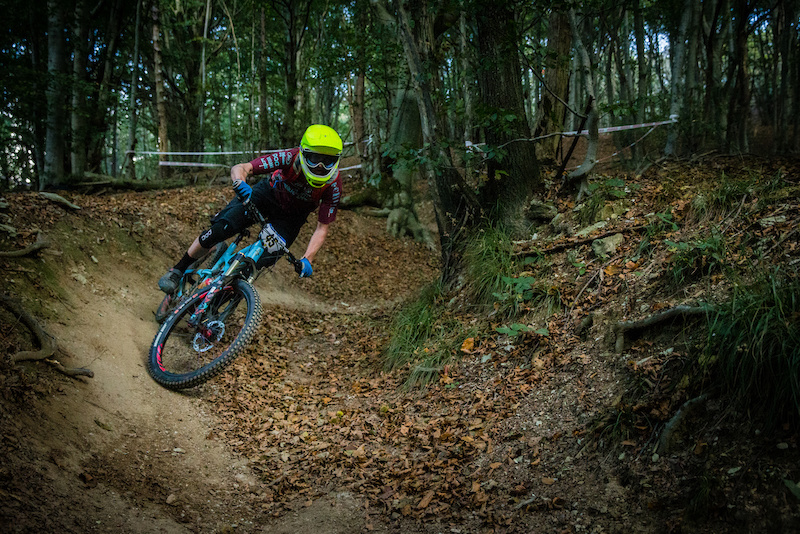 "My race didn't go to plan today. I tweaked my hamstring dabbing a foot in practice and unfortunately for me it was getting quite sore on the liaison to stage one. My leg tightened up and basically cramped my whole leg which meant I couldn't continue. Though the race trails were amazing and I'm super happy and proud of the team for smashing it and getting us 2nd overall in the team for the season." – Gary Forrest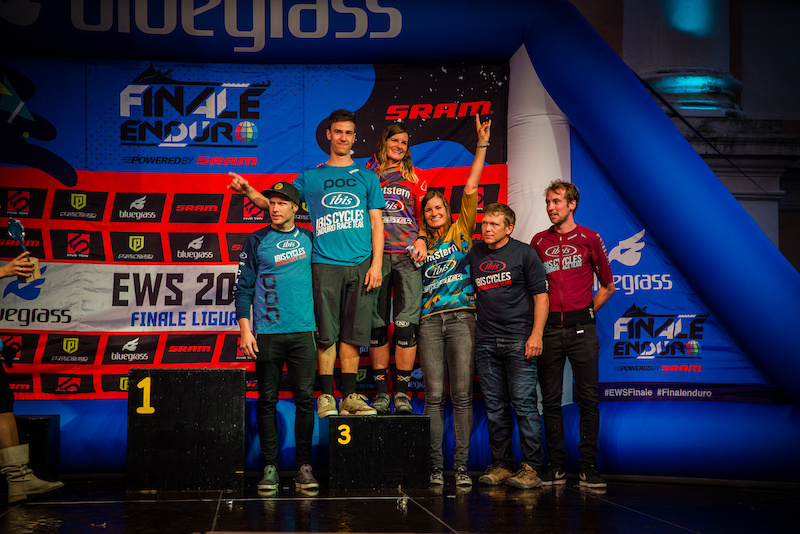 Thanks to consistent performances throughout all the eight rounds of the EWS this year the team was rewarded with an amazing 2nd place in the overall team rankings - a huge achievement for such a small team! We want to thank all our sponsors and our mechanics that kept our wheels spinning through the whole season! Finale Ligure was again the perfect season ending venue and the organizers and trail builders did an incredible job with this year's special stages, Grazie Mille!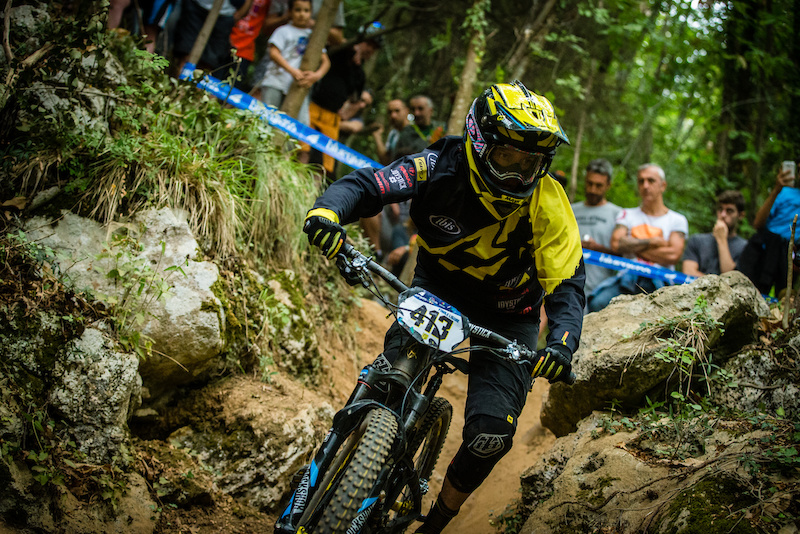 As a final note, it was a special honor to have spent some time with Anne-Caro-Chausson at the races this season, and the girls still have goosebumps from watching her drop in for her last EWS stage of her phenomenal career while the entire women's field stood by cheering her on. Thanks, ACC, you're our idol and hero! f#*kcancer
All photos by Matt Wragg
MENTIONS: @ibiscycles / @Anita1 / @Caro-DH / @mattwragg