Bike Mag have just published a great video featuring the ever inspirational ACC as part of their "Beyond the Bike" video series. Check out the full article here, or just read the text below.
December 14, 2016 By Lacy Kemp Video: Jasper Wesselman | Photo: Nicolas Joly
Ask anyone entrenched in the gravity side of mountain biking who holds the title of the 'Greatest of All Time,' and you may hear familiar names like Peaty, Vouilloz, Minnaar, but one will likely come up over and over again: Anne-Caroline Chausson. The French star holds the G.O.A.T. torch with 19 World Championship titles and the first-ever women's Olympic gold in BMX. While there are many great riders, and other world champions, there are very few legends, and only one Anne-Caroline.
Anne first hopped on a bike at age 6 for the same reason as many of us: She wanted to chase her older brothers around. What her family discovered was her natural ability for speed and calculation. Anne was an instant prodigy on two wheels. She began entering local BMX races and it wasn't long before she'd won her first world title, in the BMX Juniors category, at the ripe age of 10 . BMX was her focus for the majority of her youth, but at 16 she transitioned into racing mountain bikes due to the lack of opportunity in Europe for professional female BMX racers.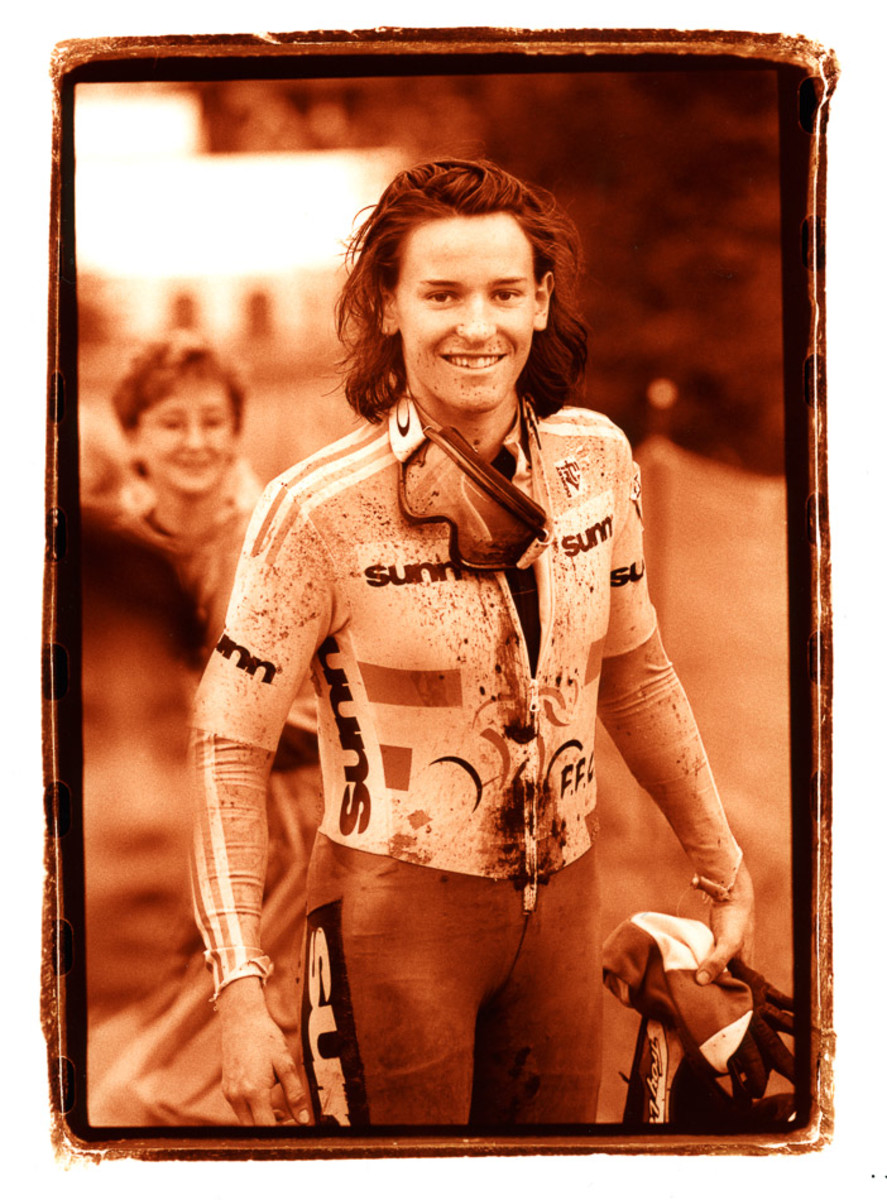 Anne-Caroline Chausson shown minutes after winning the 1998 World Championships in Mont–Sainte–Anne, Quebec. Photo: John Gibson
Mountain biking provided a fresh start for Anne's racing career. "It was new. More traveling, more fun and more money. When you're 17 everything is awesome," she said with a laugh. Anne's transition to mountain biking was natural and instantly successful. Within two months of switching to 26-inch wheels she'd won her first mountain bike world title. Throughout her career she tacked on another 13 world titles between 4X and downhill.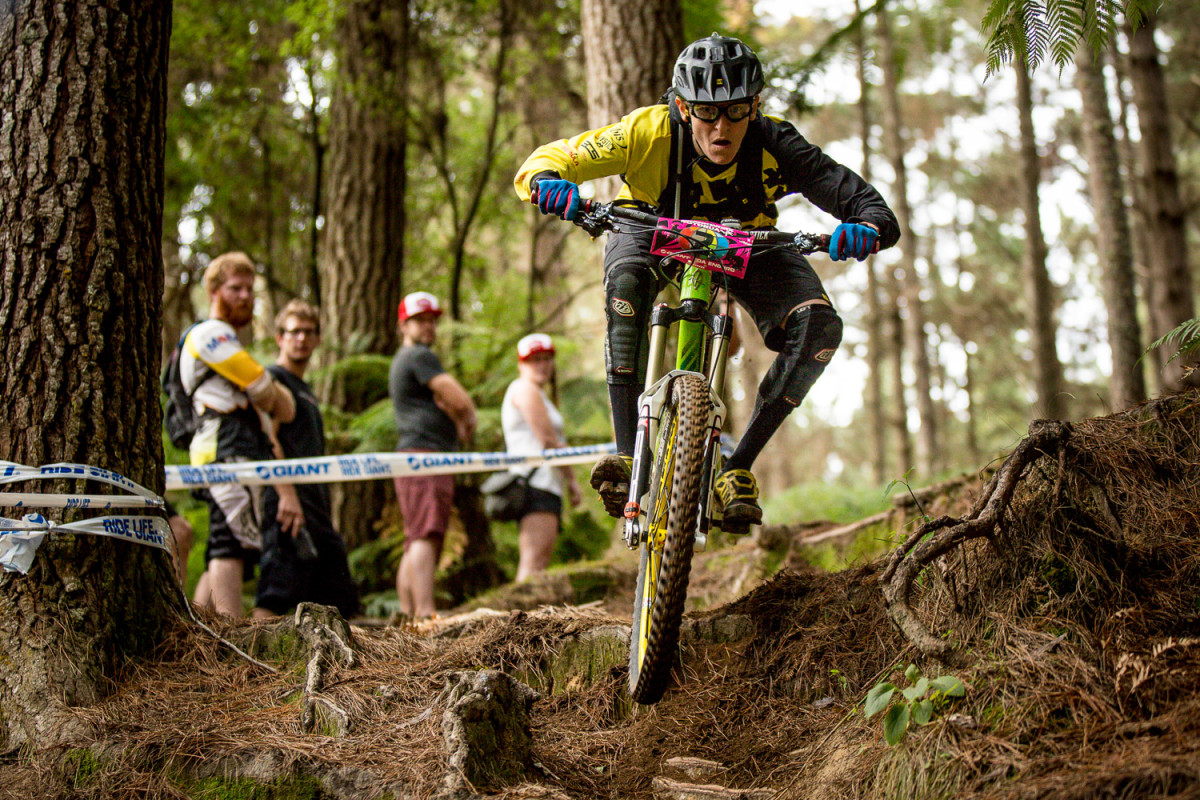 Chausson was slow to recover after winning the opening round of the 2015 Enduro World Series at Crankworx Rotorua, New Zealand. Photo: Matt Wragg
Anne on her way to winning the 2015 Enduro World Series at Crankworx Rotorua, New Zealand, in March of 2015. She noticed that her recovery from the event took longer than normal, but continued with her racing schedule. Photo: Anthony Smith
While Anne's racing career is one for the record books, her latest victory is by far the most significant. In the winter of 2015 at age 37, Anne was diagnosed with ovarian cancer. With a family history of cancer, Anne's thoughts immediately turned to mortality. "My dad died from cancer, so for me it was really hard. I thought, 'I'm going to die,'" she said. With two surgeries to remove her tumor and another for a collapsed lung, Anne's physical condition was in a rough state. But champions don't roll over easily, and her mental toughness from decades of racing played a critical role in her battle against the disease.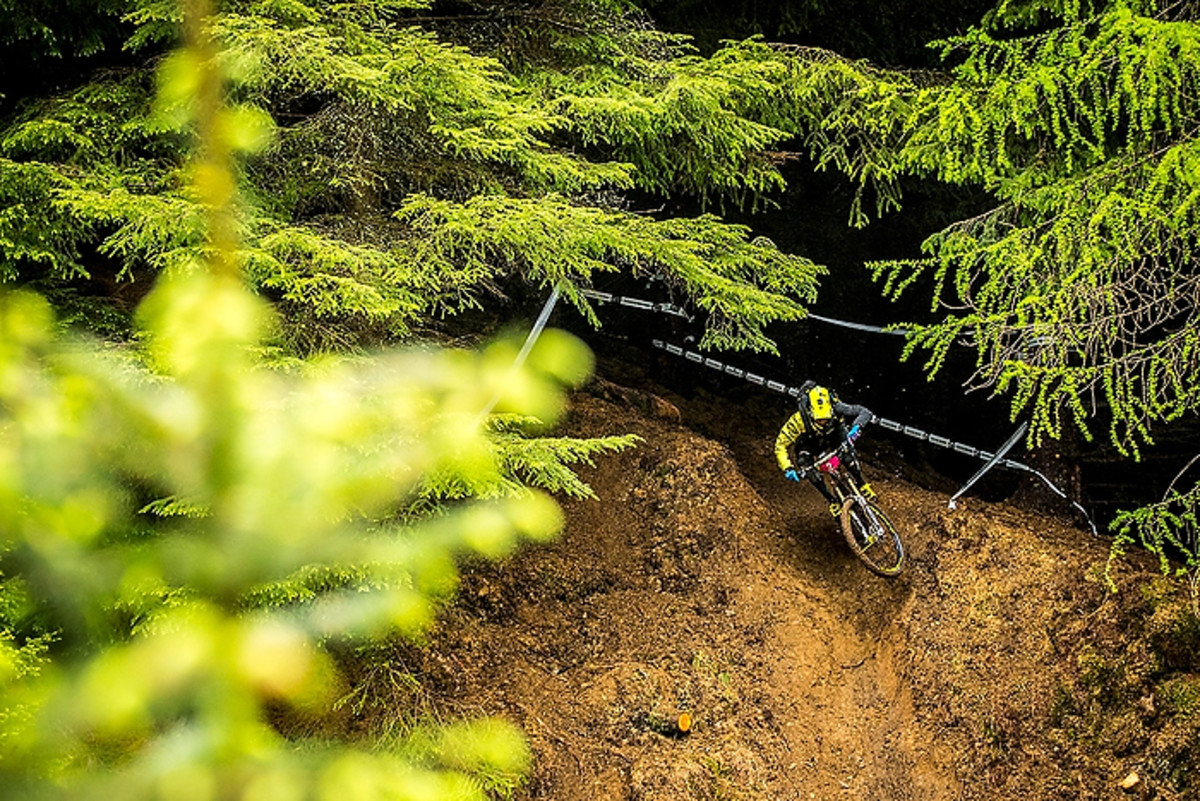 She doesn't look it here, but Anne was feeling the effects of cancer in May of 2015 while racing the Enduro World Series in Scotland. She'd be diagnosed with cancer two months later, after leaving the EWS event in Samoëns without finishing. Photo: Sven Martin
"You are sick, but you can heal," she said. "You have to learn to work with it." She took her mental preparation for racing and applied it to recovery. "In racing, if two people have the same training program, the person with better mentality will win. When I learned I was sick I said, 'OK, but I'm not going to wait on the sofa.'" She walked when she was able to muster the energy to move. She got on her motorbike when she felt she had the balance. She slowly clawed her way back onto her mountain bike, accomplishing her ultimate goal of competing in and finishing the Whistler Enduro World Series race in 2016. She not only finished, but she managed a 3rd place on the day's toughest stage. An impressive feat for anyone, let alone someone fresh off of a cancer diagnosis.
Our sport has champions, legends, inspirations and heroes, but only Anne-Caroline Chausson carries the title of all four. It's what makes her the Greatest of All Time.
Words by Tyler Wilkinson-Ray.
Photos by Colin Arisman and Tyler Wilkinson-Ray.
Aerials by Luke Kantola.
By the numbers:
• Distance traveled: 400km (Roughly 150km of bike packing, 250km or packrafting)
• Days in the Wilderness: 9
• Number of aggressive Grizzly Bear encounters: 1
• Bikes used: Ibis Tranny29 x 2
Look at a map of northwestern BC and it's both shocking and relieving to see the lack of roads. At the heart of this vast area is a place known as the Sacred Headwaters – one of the only pristine wildernesses of substantial size left in North America. It's serves as the headwaters of B.C.'s three great Salmon rivers and supports an ecosystem so rich in flora and fauna that it has been coined the Serengeti of the North. Part and parcel of the allure of the Sacred Headwaters is that it is nearly impossible to access without a bush plane. Nearly.
Fortunately, my adventure companion and fellow filmmaker Colin Arisman found the only route inside – a roughly 100 mile dirt road that was built in the 1970's as a railroad grade. The project was abandoned before completion and what remains is an unmaintained railroad grade,resulting in a perfect gravel grind that would take us directly to the heart of the Sacred Headwaters. It would serve as the first leg of our journey.
With our Tranny's packed and fully loaded with 9 days worth of food, packrafts, camping gear, and repair kits for all of the above, our last interaction with civilization was with the owner of a nearby lodge. His message to us was direct – he thought we were insane. It was big country up there and if even the smallest thing went awry, it would become a life-threatening emergency very quickly.
"It looks nice now, but things can change very quickly up there," he warned. We didn't need his warnings to know this, but it was a sobering note to leave on.
As it turns out, the abandoned railroad grade was in great shape and for the most of two days we had what felt like a gravel highway to ourselves. At the end of day two we turned off the smooth gravel and onto an old canoe portage. Despite the heavily loaded bikes, it yielded several fun single-track descents. And, a few muddy bogs to remind us where we were.
By evening we had reached the banks of the Spatsizi River, where our journey would turn north and start it's second phase – a six-day packraft covering almost 150 miles of river wilderness. We broke down the Tranny's – front and rear triangle separated, both wheels off, mindful that we would be needing them in working order again before the trip was over – and strapped them to the newly inflated rafts.
Floating was a markedly different pace than biking as we watched the landscape drift by from our boats. At the entrance of any large tributary we stopped to fish and to little surprise found that the trout had not seen many flies pass overhead.
During our first three days, the Spatsizi had grown from a small brook that was barely passable to a large, rumbling river, and soon it converged with the mighty Stikine, one the B.C.'s largest rivers. From the Stikine confluence we turned West, and for first the first time on the trip we were headed back towards a road and not away from one. Fast moving and large, this new water brought new challenges. Class 3 was the largest water we encountered, but it was plenty frightening, as flipping meant raking the carbon bikes strapped to the hood of the raft across every rock it crossed, not to mention exposing yourself to injury that would require a helicopter airlift.
Along the way we crossed paths with over twenty black bears, floated by a very curious moose and her calf, and had one very harrowing encounter with a grizzly bear that decided we looked like a good option for dinner and charged us from the opposite back. Fortunately, we we able to get in the fast moving water first, but there was a moment when we were not sure who was faster in the water— as Grizzly or a packraft. Had we been on land, it would have been no contest.
After 6 days on the river we hit an old railroad trestle—a lower section of the same railroad grade we began on on – where we rebuilt the bikes for the last 35 miles of gravel. After 6 days of paddling, we felt weightless to be back on the bikes.
We awoke the next day to rumble of tractor trailers – a stark contrast to the scenery of our past nine days. The trucks were heading to Red Chris mine, only a few miles from where our journey had begun and concluded. It was a completely unplanned, but the irony was not lost on us. If the Sacred Headwaters are for known for one thing in addition to its wilderness, it's the resources that sit underneath it. Rich in natural gas, coal, and numerous precious metals the area has been subject to intense conflict over whether mining should take place. It is home to one of the few successful campaigns by First Nations' communities to block a mining project in their sacred land – a Shell Oil hydrofracting project. Yet, despite similar blockades and protests, the Red Chris mine won approval. So on our last day in the north country, we chartered a sea plane to see this controversial site for ourselves, which despite using state-of-the-art techniques, has already begun to leak arsenic into a nearby lake after only two years in operation.
We left the Sacred Headwaters with mixed emotions. Having seen and traversed wilderness completely untouched my humankind only to realize that it's status as such might be shortly lived.
A short film on the adventure will be out next fall.
We are pleased to announce our winner of this year's #5BucksAFoot fundraiser is Sarah Maguire of Switzerland! Sarah, along with 2,530 others who donated, helped us raise a record $71,685! That's 14,337 feet of sweet Lakes Basin trail - simply incredible and beyond our wildest expectations. Sarah exclaimed, "You have just made my YEAR!!! Happy to be supporting trail groups like yours. We have a trail advocacy mob here as well (in Kanton Zürich, Switzerland), and I'm a member there too. Now I have to think about what Ibis bike I want!" SBTS thanks Ibis Cycles for their tremendous support along with SRAM, Fox, Industry Nine and WTB for tricking Sarah's bike out with blingy Gold Country themed parts. Have fun Sarah and come visit us in the Lakes Basin on your new bike!
Once again, with the help of all of you, we raised $71,685!
Congratulations Sarah!